BAWA - SV
7th to 7th November 2021
Sponsored by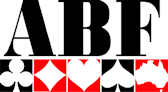 People
| | |
| --- | --- |
| Organiser: | John Aquino |
| Phone: | 0434 608 834 |
| Email: | johnleonaquino@gmail.com |
| Chief Tournament Director: | Dave Parham 0409 111 081 |
GENERAL INFORMATION
A Gold Point Congress to celebrate the contribution of our senior players (over 75) to our game.

Location - WABC Bridge Club
Catering
Due to COVID 19 precautions, for the safety of competitors lunch cannot be provided by the Tournament Organisers. Competitors should bring their own lunch for the day.  Tea and Coffee will be available. Competitors will be expected to adhere to hygiene protocols while at the tournament venue. 
Note: this may change later in the year.

PROGRAM
Event
Entry Fee
Day
Time
Total Entries
Action

Super Vets

50 credits

Sunday
07-11-2021 - 10am

12

Enter
View Entries