Kenmore Bridge Club
27th to 28th January 2024
People
| | |
| --- | --- |
| Organiser: | George O'Brien |
| Phone: | 0412 377 393 |
| Email: | gobrien@outlook.com.au |
| Chief Tournament Director: | Chris Snook |
GENERAL INFORMATION
RED Masterpoints awarded for each match won or drawn plus outright awards to the top ⅓ of the field (not guaranteed unless an ABF number is provided).
Green and Blue systems only in the lowest grade.
Swiss Pairs scoring method is by Matchpoints.
Green, blue and red systems and brown sticker conventions and treatments will be permitted, except that only Green and Blue systems will be permitted in the lowest grade.
Each player must have a currently approved ABF system card. Players are responsible for ensuring the correctness of their system classification.
Depending on the number of entries the field will be divided into two or more grades.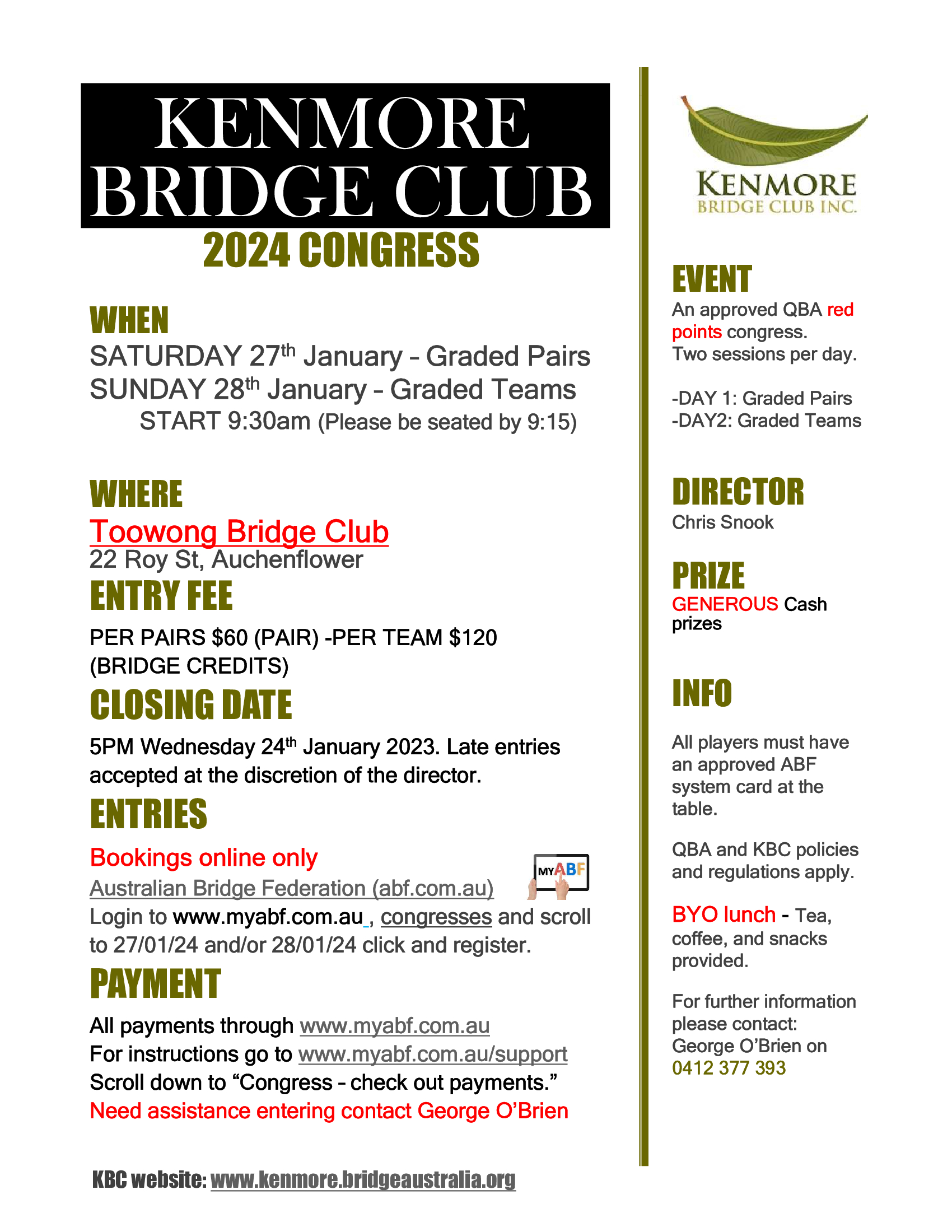 Location - Toowong Bridge Club, 22 Roy St, Auchenflower
Transport
Car access off Milton Rd or Coronation Drive. 
Walking distance from Milton and Auchenflower railway stations.
Walking distance from Park Rd city cat.
Walking distance from bus tops on Milton Rd and Coronation Drive.
Catering
BYO Lunch
Tea, coffee and water available throughout the day. Along with light snacks. (Biscuits, cakes cheese and fruit)
PROGRAM
Event
Entry Fee
Day
Time
Total Entries
Action

Pairs

60 credits

Saturday
27-01-2024 - 9:30am & 1:15pm

34

Enter
View Entries


Teams

120 credits

Sunday
28-01-2024 - 9:30am & 1:15pm

21

Enter
View Entries

Off street parking available with spaces reserved for people with disabilities.
There is wheelchair access, wheelchair toilets and automatic entry doors.